O

ur Products come from worldclass manufacturers with extensive Product Support availability & Committed Warranty SLAs.
At tr@ceDATA you can be assured of only receiving the best in class hardware or software, as we believe that only the top brands are enabled with a vision of serving its clientele and do possess the ability to deliver a comprehensive service relationship while or after the product is purchased, and of course for a long period of time.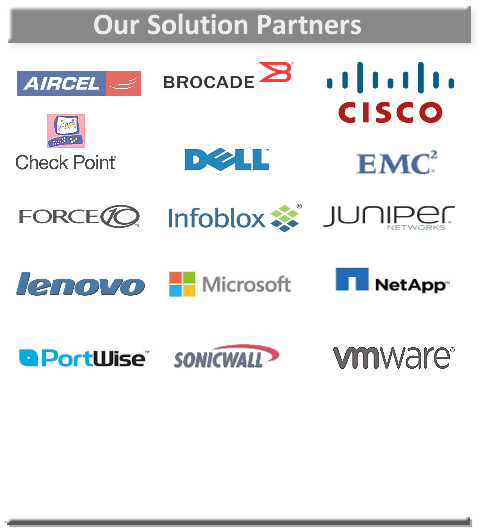 All our Product Partners would possess high standard manufacturing processes, ability to reach-out and be reached in case of after sales service support or for constant technology upgrades.
We partner always with world class products that bring-in reliability, performance & a long term service assurance and delivery.
Our Solution Partnerships would ensure that our clients receive the Best in class for a given Technology vertical with a solution orientation to ensure every aspect of the investment is secured.
Added to the vast Technology solutions available through our Solution Partners, our technical expert team equipped with the right knowledge & experience bring-in the additional value to you while understanding your existing infrastructure and the desired outcome while keeping your IT budgets in sync, to design & deploy the solution in a given time frame.
Our Value add is in the vast certifications possessed like -  CCIE, IPv6 Gold Engineers, IPv6 Gold Trainer, CCNP, CCNA, Check Point, VmWARE, Microsoft, Unix, Tyco, Sonicwall, ITIL, AIPMM & PMI  and the collective expertise we bring to each of our clientele, every time.

Our experience, while having deployed numerous industry vertical based requirements is unchallenged and you can be assured with professional project management support giving you peace of mind.
Please proceed to Our Solutions &  Our Services for more details or just contact us.